It's almost a weekly occurrence that I tell someone about my "hair" (usually a fellow hair stylist, who had NO idea until I revealed the secret) and they are AMAZED!  It makes me feel wonderful when people who have made hair their business, day in and day out-everyday, have to be told that my hair is not my own.
Since we've all seen a bad toupee or a bad wig that looks bulky (and obvious), what makes my hair (and the hair of my clients) appear so natural that it fools even professionals?  Custom! While all heads are very similarly shaped, everyone has an extra bump or a ridge, while others may be more round, or oblong-making no two heads alike.  All of the hair systems that I supply are fitted for your head only.  A template is made of your head and shipped directly to the manufacturer where they sew the base of the system to fit you perfectly-this is far more accurate than just submitting your measurements. This means that when it arrives and you are ready for your installation there is no nipping or tucking, and no ridges or bumps when your system is in place.  The system will truly fit your head like a glove so that even if someone were to touch your head or run their hand over your hair it would be virtually undetectable.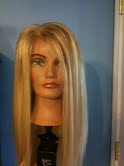 My main goal, when evaluating what type of hair system is best for you, is to give you a system that will allow you to regain all the confidence (and more) that you lost with each hair that you shed. This means that not only do I want to give you hair, but I want to give you hair that you hardly ever give a second thought to.  You won't have to wonder if anyone "knows" about your hair because a custom system will create the incredible illusion that the hair is growing from your scalp at your hairline, your part and on all of the curves on your head!
While stock pieces can be used successfully by "customizing" them, the importance and impressiveness of a true custom system should not be underestimated!