Hair Systems
Customization is our Reputation!
Hair Systems Are our Specialty
Personal Hair Therapy also offers fuller and larger sized stock and custom systems that provide more extensive coverage for ladies who need or simply want more hair.  This is for the woman who has seen it all and tried everything or is just tired of fighting the hair loss battle.  These systems come in all different sizes (customized just for you with a custom head template), lengths, colors (matched perfectly to your hair swatch or in any color of your choice) and hair types & textures.  These systems can be worn alone or blended with any amount of your own remaining bio hair.  These beautiful units are amazingly lightweight and do not look bulky or wiggy!  They can be attached in a variety of ways and yield amazingly realistic and authentic results!  You can have the beautiful head of hair you've always wanted, feel gorgeous & confident again, be active and live the life you thought you'd left behind with hair loss.
Ultratress Extensions
Personal Hair Therapy is helping women get the hair they want, everyday! Personal Hair Therapy now offers Ultratress extensions with 3 different application methods suitable for all hair types! If your current needs or desires include more volume, more body or added length, Ultratress extensions allows for the ultimate in flexibility. These safe and unique applications truly sets Ultratress and Personal Hair Therapy apart. Read More.
A Gallery of Some Samples
To the left you will see some samples of different attachment types and hair length and color. From stock units to precise customization, PHT seek to build long term relationships with women providing them with beautiful hair and training and educating them to maintain their units, saving them thousands of dollars a year.  If you want to see the gallery to the left larger, simple click on the picture and click the arrows left or right to navigate the gallery.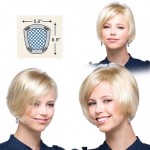 Toppers
If your primary area of concern is thinning on the top of your head, a widening part or diffuse thinning starting at the top of your head and slightly on the sides,  boost your confidence with a topper!  A "topper" is just what the name suggests-this is a top of the head piece that comes in a variety of stock or customized sizes, lengths and colors.